Search Reviews
Subscribe Reviews
Our Sponsors
Editor's Pick
Tracks: A Curious Tale of Who's Her Daddy? by Simon Plaster
Who is Henrietta Hebert's biological father? An answer to the question is a conundrum that could be illuminated when Henrietta's mother finds DNA evidence that supposedly belongs to the mystery man, and this is the impetus behind Tracks: A Curious Tale of Who's Her Daddy? Henrietta's mother hires a private detective, Max Morgan, to find out the truth. Max is not only an admirer of hard-boiled detective tv shows and crime novels but also an avid listener to The Fat Man, a popular detective drama radio program in the 1940s and early 1950s. In American history, the show lasted for six seasons. Max fashions himself after the detective in the title role. A marvelous beginning to an entertaining story with a number of complications arising as the detective becomes more embroiled in the speculative paternity case. More than one man is a suspect for possibly fathering Henrietta, and melodrama surrounds each man.
Simon Plaster pulls readers into this delightful story from the first page and keeps their interest right up until the final page. It takes place over a time period of five days in Henryetta, Oklahoma. A good balance of noteworthy, pivotal, and lighthearted moments lends additional meaning to momentous subject matters, such as political treachery and subterfuge, differing views and aspects involving paternity, and ethical issues in both sperm donation and DNA testing. All of these topics are woven together with amazing skill revealing a seamless story from beginning to end. Plaster also beautifully shows how extenuating circumstances and individuals' subsequent reactions to them can impact a person's life in positive and/or negative ways.
Plaster's skillful use of amusing and imaginative metaphors and eclectic dialogue provides readers with wonderful visuals of scenes and characters. Each of the characters is imbued with a unique voice that suits their roles and makes their distinct personalities stand out to readers. The characters act from believable motivations, and each one's actions are pertinent to not only moving the plot forward but also to the final outcome of the story. Plaster's stylistically complex writing techniques along with witty and clever wordplay adds to the overall enjoyable reading experience. Readers will appreciate and enjoy the fictional excerpts of Fat Man episodes that wonderfully tie into the storyline. The musical interludes scattered throughout the book are not only fitting but also humorous in the scenes in which they appear. Plaster has written a great twist ending that surprises readers and totally fits in with this intriguing story that will stick in readers' minds long after they have finished reading it.
| | | | |
| --- | --- | --- | --- |
| Author | Dianne Woodman | Added On | Sat May 09th,2020 |
| Rating | (0) | Category | Humor/Satire |
Review Of The Day
Boo! A Chilling Tale of Too-Too #MeToo
Boo! A Chilling Tale of Too-Too #MeToo
By: Simon Plaster
Publisher: Mossik Press
Publication Date: September 2018
ISBN: 978-0-9994-1851-2
Reviewed by: Amy Lignor
Let us begin with the fact that if you're a fan of Halloween, this is one cover you are absolutely going to love. And that's only the half of it, considering the story is fun, suspenseful, and stars a cast that many readers have already had the good fortune to meet and fall in love with.
Her name is Henrietta. She's a journalist who works for the OKC SCENE News Group, but one day wishes with all her heart to win a Pulitzer for far more serious stories. Alas, for now, she's stuck reporting on the Oklahoma nightlife 'scene' that is most definitely not serious enough to get her recognized...yet.
This time around, we catch up with Henrietta at work, staring at a copy of her resume on the computer screen. Why is she ready to give up? Well, it seems that her new boss, Nigel Fleetwood, has turned into something she didn't quite expect when he'd first introduced himself. (Or, as Henrietta says, "hisself." You gotta love that accent!) Anyway, Nigel certainly seemed to know the newspaper business and, upon taking over, did announce that he was doing away with the zone editions that just focused on local nightlife. Instead, he wanted to print a single city-wide paper called SCENE that would also cover real news from around the world.
Unfortunately, after appointing Henrietta Assistant Editor, this weekly paper was revealed as being something even worse than a tabloid. Nigel likes to "borrow" from other papers when it comes to stories for SCENE, and the stories he borrows are amazingly tacky. (Example: Launching SCENE with a post-Christmas edition, the borrowed headline read, "Get the Tart Who Used My Flu for a Loo!") Henrietta is tired of all this and even more upset when Nigel shows her a recent ridiculous story regarding a haunting in HRH's palace in London. He tells Henrietta to find a local story that would somehow fit the same premise of ghosts and sexual harassment taking place in a haunted palace.
We then meet up with Wynona Sue Lehough, Henrietta's mother, who has had a slew of interesting marriages and divorces, to say the least. She's had to deal with everything from cheating to sexual harassment, and is currently laying on a couch and speaking to her head doctor, Gloria Stern, about her latest issue. Turns out that a producer/director by the name of Deano DeBoffo came into her small town two years ago, having chosen Wynona's salon, Hair House, to be the setting for the pilot of a reality TV series he was shooting. He had lied and broken her heart back then, and the situation had even caused her own "hotshot journalist" daughter to turn against her. Not only that, but the F.B.I. even arrested the man for murdering an actress with a poisoned spicy meatball at an Academy Award banquet.
Let us just say (not wanting to give too much away) that Deano DeBoffo is scheduled to return. However, even though his visit is on the down-low, there is a ton of gossip and anger as memories and information regarding his sexual harassment attacks rise to the surface. This mogul, nicknamed the "Weinkenstein monster," will find himself linked up with The Haunted Castle - a run-down dinner theater with an infamous history and a ghostly vibe. (Sounds just like the "local slant" Henrietta was told to look for, doesn't it?)
Victims of the Weinkenstein monster's harassment, along with a psychic who will be utilized to call a ghost from the "other side" in order to testify on behalf of the accused, and many more, will all play a part in figuring out if Deano DeBoffo is truly a guilty fiend or an actual victim of a cold-hearted liar who aims to destroy him.
With Henrietta covering the event at The Haunted Castle, it is amazing what unfolds as this author does, yet again, another outstanding job of telling a great mystery. He should also be commended for covering such a hot topic in today's world as he introduces great characters and a fast-moving plot, while keeping the fantastic Henrietta at its core.
Quill says: This is one series that no reader who loves sarcasm and suspense should miss!
| | | | |
| --- | --- | --- | --- |
| Author | Feathered Quill Book Reviews | Added On | Fri Oct 26th,2018 |
| Rating | (0) | Category | Humor/Satire |
The Tempter's Bane
The Tempter's Bane (The Drifters' Road, Part Two)
By: Kyle McCurry
Published by: Atmosphere Press
Publication Date: June 2021
ISBN: 978-1637529362
Reviewed By: Amy Lignor
Review Date: June 8, 2021
After diving into the first Drifters' Road book, The Fleeing Company, I was beyond happy that I had the second book right here on hand. The reason? I got so into the first one – and fell for the characters so completely – that I did not want to wait to see what happened next.
Adroegen was the main character in the first book. This young man who was good at heart and who fought to keep his home safe, was someone the reader was able to stand by as he traveled into all types of mystical locations, where everything from dragons to an evil lord named Vyroun seemed to be waiting around every corner.
Well...as Part Two begins, the horrible goblin chief we met up with in the first book (Vyroun's second-in-command, so to speak) has been killed. Although there should be some kind of peace after this, unfortunately that's not the case. The goblins have regrouped and seem to be stronger than ever. As Adroegen is lost over the side of a cliff, his group of friends end up getting separated after being surrounded by a pack of horrible goblins. Being outnumbered, not only do they lose Adroegen, but Caitren is captured to be taken before the malevolent Vyroun who has not given up his plan to become the ruler of all. His next steps are to wage war upon the northern kingdoms.
Edelbir and Kattalin end up going on the hunt to find Adroegen, as well as perhaps unearth a secret kingdom of dwarves to bring them to their side. After all, they need larger numbers in order to win, and the dwarves could very well solve that problem. Gleowan and Vaenn take it upon themselves to rescue the tough-as-nails Caitren from what may be her ultimate demise. Trekking into the Silver Mountains, where the dwarves are said to reside, the readers are once again brought into this fantasy world that is beyond beautiful. The search for the jewels (Galesir) that were once stars hanging in the dark sky still persists. The tree owning the roots that actually hold the Earth together and whose branches are responsible for supporting everything from the sun to the moon (Elunbelan) is also still a major factor. And the dwarven kingdom is a sight you will never be able to forget. Caitren's resilience brings even more fire to the story and shows her as a true heroine; and the Fornwood, which is the never-ending Woodland owning the Fairywater, still holds everything from nymphs to trolls.
This follow-up has the characters facing their own internal struggles, while some deal with the past and become even more powerful because of what they find stored in their own souls. This is a narrative with depth, which is the strongest 'thumbs-up' I could possibly give. The author's intelligence, creativity, and love he has for his own characters shines through on every page. Will the "missing in action" Adroegen be found? Will the dwarves help them? Even separated this group shows the type of power you can have if you keep your focus on the need to protect and preserve the world and each other.
With the enemy still just as sinister, the goblins just as frightening, and the end game just as exhilarating, the author has once again conjured a book that's strong all by itself, and one that has also lived up to the greatness of the first book by increasing the intensity of the entire series.
Quill says: If there's a flaw to be found in this series, I dare you to find it. Intriguing, breathtaking characters that will stand the test of time...this has it all! 5-stars.
For more information on The Tempter's Bane (The Drifters' Road, Part Two), please visit the author's website at:
kylemccurryauthor.com
| | | | |
| --- | --- | --- | --- |
| Author | Feathered Quill Book Reviews | Added On | Thu Jun 10th,2021 |
| Rating | (0) | Category | Fantasy |
Traitors for the Sake of Humanity
Traitors for the Sake of Humanity: A Novel of the German Resistance to Hitler
By: Helena P. Schrader
Published by: Cross Seas Press
Publication Date: June 1, 2021
ISBN: 978-1-7353-1393-1
Reviewed By: Amy Lignor
Review Date: June 8, 2021
Every time I'm lucky enough to be given the opportunity to review a Helena Schrader book, I'm excited. I also tell myself that I have plenty of time to read the book before the review is due. Yet...it happened again. Even though I know this information ahead of time, I still have a problem putting this author's books down once I begin. They are actually so interesting I want to keep going no matter what.
This incredible read introduces us to some of the famous and infamous people from WWII that, yes, we have heard about in the past. Some others are fictional, of course, and we have not heard of them before, but they are up against the diabolical slime that was Hitler's circle of friends, and each member of the Resistance is beyond fascinating. They had strength, determination, morals, values, and were willing to risk their own lives in order to stand against the biggest evil this world has ever seen. They wanted to see Hitler and his regime fall; they wanted with all their hearts to defend humans, restore the laws that were put in place for a reason, and find a way to stop innocents from being beaten, tortured, gassed, and the rest of the hideous laundry list of things that the scum of the Third Reich did to the defenseless.
Readers are brought into that time where a minuscule man by the name of Adolf Hitler has somehow completely enchanted Germany. He has brought them under his spell (no one has yet to figure out how he did that), and his Nazi party has put tons of notches into their belts with the number of victories they keep getting. There are those individuals who have found a way to evade this awful man's magic; Philip, Alexandra, and Marianne are three of them. Although they do not start out together, these people who feel like they are on the other side of an "invisible" wall because they hate this man everyone else seems to love, find each other. They soon learn that they are not alone in their hatred. In fact, their feelings are felt at the very top of the ladder by those who are imbedded in the German High Command.
There are so many amazing characters in this book, that it feels like there's a new backstory to learn about on every page. I personally felt like this was a map of sorts; the history was so real and so well-researched (which is something Schrader does with all her books), that I was riveted by each character's story. Your heart and soul hurt for the people who worked so hard to save their brethren, while they wished for their country to become great once again by pulling it out from under the heathenistic brutality that defined Hitler and the Nazis. And even if you are not a WWII aficionado, this gifted historian makes the history coincide with pure excitement as she ties fiction in with nonfiction perfectly.
It will be no surprise to readers, because of the immense amount of information this book gives, to learn that Helena P. Schrader has a deep-rooted past in WWII history and happenings, including the fact that she has interviewed over one hundred people who survived the horror of Nazi Germany. This, however, is not the only "must-read" from this author. Where Eagles Never Flew: A Battle of Britain was outstanding, and the Jerusalem Trilogy, that begins with the inventive, engaging and unforgettable Balian d'Ibelin: Knight of Jerusalem, is among the best-of-the-best trilogies every written. My advice is to go on her author page or look on Amazon and begin your adventure with Ms. Schrader as soon as possible.
Quill says: If you wish to grasp onto a hero, read this book. Truly inspiring, these awesome 'traitors' keep you on the edge of your seat. Schrader has done it yet again: 5-Stars!
For more information on Traitors for the Sake of Humanity: A Novel of the German Resistance to Hitler, please visit the publisher's website at:
crosseaspress.com/traitors
| | | | |
| --- | --- | --- | --- |
| Author | Feathered Quill Book Reviews | Added On | Thu Jun 10th,2021 |
| Rating | (0) | Category | Historical Fiction |
Interview with Author Ginny Sassaman
Today, Feathered Quill reviewer Lynette Latzko is talking with Ginny Sassaman, author of Preaching Happiness: Creating a Just and Joyful World.
FQ: Global change to make our world a better place won't magically happen overnight. What kind of quick and simple things can a person do to not only increase their own happiness, but encourage others to act the same way too?
SASSAMAN: I would recommend four immediate steps:
First, begin a meditation practice. That is not only one of the very best things to do for your own happiness and health, but it is also a great way to grow more mindful, not only of our thoughts but also more mindful of the good and bad in the world. Meditation also increases compassion, and that feeds a desire to help.. From that mindfulness and compassion, each of us can begin to find the way/was that we can contribute to making it a better world.
Second, become more aware of, and perhaps ramp up, your acts of kindness. This is such a great strategy, because kindness generally makes the giver feel really good, too. Since being generous and helping others feels good, being mindful of that fact can lead us to want to be an even more kind person.
Third, practice gratitude. With a deep understanding of gratitude comes the knowledge that each of us is dependent on, and receives constant gifts and benefits from so many others (including the many wonders of nature), without whom our lives would be poorer. This knowledge can in turn feed a greater desire to help.
Four, build and/or nurture your community. It is important to understand that while each of us can make a difference, none of us can make the world a better place alone. We need to act in community -- another reason relations matter so much.
Finally, I would caution everyone to be gentle on themselves and start slowly. The world can be overwhelming. Taking baby steps is the best way to start.
FQ: At the end of your sermons you write "may it be so." What is the meaning behind this phrase?
SASSAMAN: Because I am a lay preacher and never went to seminary, I learned how to write and deliver sermons by watching the ministers in my own church. They periodically used the phrase, "may it be so." I decided I really liked it, because, whether I am talking about changing the overarching economic and policy making paradigm or being a kinder person, I truly want that to be manifested. I really mean it when I say, "may it be so."
FQ: When first picking up your book, some people may react negatively to the word "sermon" and don't want to be "preached to, especially if they believe your message has any religious connotations. How would you encourage them to read your book?
SASSAMAN: That is so true! One friend asked me to please not use the words preaching or sermon in the title. The publisher and I struggled with this. The downside of using these words in the title is clear. However, the fact that these are sermons is also one way this book is different from so many other happiness books on the market. And, that is, of course, what they are. Still, whenever I get a chance to speak about the book, I make very clear that there is no religious dogma and that no matter anyone's particular faith -- or lack thereof -- this book can still be meaningful to them. It is an ongoing conversation! So thanks for asking this particular question.
FQ: How did you determine which sermons to include in this book?
SASSAMAN: These are all the sermons I have delivered thus far at the Barnard Church. Because they were delivered to the same group of people over time, I knew that they were only minimally repetitive (my editor and I still had to weed out some repetitive material).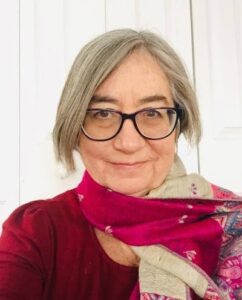 FQ: Do you have a favorite sermon?
SASSAMAN: I have several favorites, but probably my favorite favorite is kindness. I don't think people realize how important kindness actually is, how it is the glue that has held us together, and how it isn't always available to people. I think people expect the kindness sermon to be a little bit lightweight, and are surprised when it isn't. I like a sermon that touches a lot of different emotions, and also contains surprises.
FQ: How do you get past the naysayers who think talking about being happy is ridiculous or that there are far more important issues to tackle?
SASSAMAN: That is another super question, because yes, people often think happiness is selfish and not at all where we should put our time and energy. I generally tackle this question head on. Nobody who knows me personally would ever question my commitment to working hard on big issues, like combating systemic racism and climate change. I point out that happiness is really about being at our best, thriving, flourishing -- and that we really need to be at our best to tackle the hard work effectively. That is the whole essence of the sermon on happiness and activism. I definitely believe we might as well do our best personally to be happy too, since as far as we know, we only live once, so why shouldn't it be our happiest possible life? At the same time, I think that whatever work we do in the world, we can be better at it when we understand and cultivate our personal happiness. I am not in this work to convince other people to be happier in a selfish way (though, that's not a bad goal). I am in this work to convince people that cultivating their happiness can be a great gift to the whole entire planet. It is of bedrock importance for all the other issues.
FQ: What are some of the positives or negatives you came across while transitioning from writing sermons to becoming an author of a book?
SASSAMAN: The experience was by and large quite positive. I was a little surprised at how much editing was needed to make the sermons a better read. Also, when delivering a sermon, I always give credit to the author of a quote, or the researcher, etc. But when it's oral, I don't need end notes! Going back and finding the sources for a lot of this material and then creating the end notes was A LOT of work. Happily for me, my husband Bob and editor Amabel both helped.
FQ: Do you have any writing projects that readers can look forward to in the future?
SASSAMAN: Happiness is my calling, my life's work. I do have another happiness book in mind, one that is not sermons, so I can better reach those who would never buy my Preaching Happiness book. And I am also starting work on a memoir. The central question of the memoir is, how did I get so lucky to have happiness as my work? I admire so so much everyone in the trenches doing life's hard work, whether it's a farmer or a nurse or a plumber, etc. There are so many really important jobs that are such hard work. And here I am, writing and teaching about happiness. So I am curious to explore how and why I got here. I also work partt-ime as a writer for causes. Right now, I am a fundraising writer for the homeless shelter in my part of Vermont. This work is not for public consumption, but it is an example of my ongoing desire to help others.
| | | | |
| --- | --- | --- | --- |
| Author | Feathered Quill Book Reviews | Added On | Thu Jun 10th,2021 |
| Rating | (0) | Category | Interviews |
All Reviews
Login Here
Top Rated
Most Popular
Editor's Pick
Sponsor