Search Reviews
Subscribe Reviews
Our Sponsors
Editor's Pick
Tracks: A Curious Tale of Who's Her Daddy? by Simon Plaster
Who is Henrietta Hebert's biological father? An answer to the question is a conundrum that could be illuminated when Henrietta's mother finds DNA evidence that supposedly belongs to the mystery man, and this is the impetus behind Tracks: A Curious Tale of Who's Her Daddy? Henrietta's mother hires a private detective, Max Morgan, to find out the truth. Max is not only an admirer of hard-boiled detective tv shows and crime novels but also an avid listener to The Fat Man, a popular detective drama radio program in the 1940s and early 1950s. In American history, the show lasted for six seasons. Max fashions himself after the detective in the title role. A marvelous beginning to an entertaining story with a number of complications arising as the detective becomes more embroiled in the speculative paternity case. More than one man is a suspect for possibly fathering Henrietta, and melodrama surrounds each man.
Simon Plaster pulls readers into this delightful story from the first page and keeps their interest right up until the final page. It takes place over a time period of five days in Henryetta, Oklahoma. A good balance of noteworthy, pivotal, and lighthearted moments lends additional meaning to momentous subject matters, such as political treachery and subterfuge, differing views and aspects involving paternity, and ethical issues in both sperm donation and DNA testing. All of these topics are woven together with amazing skill revealing a seamless story from beginning to end. Plaster also beautifully shows how extenuating circumstances and individuals' subsequent reactions to them can impact a person's life in positive and/or negative ways.
Plaster's skillful use of amusing and imaginative metaphors and eclectic dialogue provides readers with wonderful visuals of scenes and characters. Each of the characters is imbued with a unique voice that suits their roles and makes their distinct personalities stand out to readers. The characters act from believable motivations, and each one's actions are pertinent to not only moving the plot forward but also to the final outcome of the story. Plaster's stylistically complex writing techniques along with witty and clever wordplay adds to the overall enjoyable reading experience. Readers will appreciate and enjoy the fictional excerpts of Fat Man episodes that wonderfully tie into the storyline. The musical interludes scattered throughout the book are not only fitting but also humorous in the scenes in which they appear. Plaster has written a great twist ending that surprises readers and totally fits in with this intriguing story that will stick in readers' minds long after they have finished reading it.
| | | | |
| --- | --- | --- | --- |
| Author | Dianne Woodman | Added On | Sat May 09th,2020 |
| Rating | (0) | Category | Humor/Satire |
Review Of The Day
Tales from the Other Side by Paul Corson
"Tales from the Other Side" by Paul Corson was designed as a companion piece to his "Regaining Paradise: Forming a New Worldview, Knowing God, and Journeying into Eternity". While, the books are strong enough to stand as independent reads, when taken together, their message is elevated to the next level.
But first off, a few words about "Regaining Paradise". This daring book goes beyond the curtain of materiality to tackle some of the biggest existential questions relying on personal experience, science, and rationality/logic, sprinkled with a little bit of imagination. Although the spark for this intellectual and spiritual quest lies in the three lived transcendental experiences of the author, he heavily relies on science to argue his perspective.
In "Tales from the Other Side", Paul Corson delves deeper into his personal life, revealing instances of when the "Other Side" seeped into this side. These confessions and stories will enable the reader to have a more holistic view of the thought-process of his spiritual journey. The book is segmented into seven magical parts, of which five are autobiographical, the next part is a rather out of the ordinary conversation (between space travelers and stargazers) and the last part consists of fiction stories that form allegories.

The autobiographical parts present an apparently disjointed series of events subtracted from different periods of Paul Corson's life. But these puzzle pieces fit the general pattern of a greater plan. These simple, every-day stories, with all too familiar "characters", often defy expectations and explanations. Some events will give you the shivers, others might be amusing… but taken as a whole, they achieve two essential things: 1) elicit questions and curiosity and 2) draw attention to small good deeds. In my view, this is the greatest accomplishment of the book, to make the reader reflect on spiritual matters, but also encourage by example to do any and all good deeds, no matter how trivial they might seem.
The seventh part is also of particular interest, as the two mystical allegories are strikingly different from the previous parts of the book. The first story follows the re-start of civilization and its potential downfall. It is a telling narrative about human nature and its dual potential for good and evil. The second story is a science fiction tale, which revolves around a sentient planet, space travel, and telepathic communication. Paul Corson presents to us probably the two most important events in this lonely planet's life, a first visit by space travelers, which opens up a new bright chapter for her; and a second visit from a more familiar planet, which might threaten to close that chapter.
All in all, "Tales from the Other Side" is a quick and easy read that (hopefully) leaves a lasting mark. The author does not attempt to mesmerize the reader with fancy linguistic or aesthetical feats, but rather he addresses the message in a direct and frank manner. Perhaps that is why it hits harder.
| | | | |
| --- | --- | --- | --- |
| Author | Timea Barabas | Added On | Sun Oct 11th,2020 |
| Rating | (0) | Category | Religion and Spirituality |
Interview with Author Floyd Hughes
Today, Feathered Quill reviewer Amy Lignor is talking with Floyd Hughes, author of Hi My Name is Jonah.
FQ: How long have you been a pastor, sir? And what made the Book of Jonah call out to you to write this particular book?
HUGHES: I've been a full-time pastor for 14 years, all with my current congregation, CrossRoads Community Church of Jefferson Hills. Prior to that I was a teaching pastor at CrossCurrent Church in Ashburn, VA but that was as a volunteer. My main job at that time was as a consultant with the government.
FQ: When you look at the news on TV, and see what's happening in our communities, what is the first thought that comes into your mind?: Along those same lines, do you feel we CAN, as a people, eventually stop hatred?
HUGHES: The first thought that comes to mind is the lack of hope that is being portrayed. There actually is hope in our communities but what we see on TV is hatred and violence and division. The stories of hope are few and far between and don't get any attention unless it directly plays into the narrative of anger and division somehow. I think we can stop hatred but it has to be intentional and there needs to be an external influence, which is where God comes into the situation. Left to our own devices we naturally choose hate and violence and tend to lean towards Lord of the Flies or the Wilds as a way of life.
FQ: Fear can breed hatred, as we all know. In a world where fear and panic grew because of the pandemic, do you feel there is a way to change the path we're on?
HUGHES: The opposite of fear or the natural enemy of fear is trust. It is hard to fear that which you trust. To combat the fear and change our path we need to restore trust...in our politicians, the media, even in the religious leaders in our community and in the brave men and women who serve as first responders and lay their lives on the line to serve and protect our communities.
FQ: If you had one chance to give a word of advice, so to speak, to the masses, what would that advice be?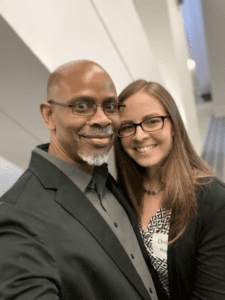 HUGHES: Whether you believe in God or not, no one can deny that the main message of Jesus is one that everyone can do and one that can change the world: Love your neighbor as yourself, the neighbor that may not look like you, vote like you, or even believe like you. Love them like you would want to be loved and it will change your world and theirs.
FQ: You mention in the book that you're a bit of a movie "geek." In fact, you have many fun, witty places in the book that brings a smile to a reader's face. Is there a favorite movie of yours? And is there any one movie that inspires you in your own profession that you feel people should watch?
HUGHES: My favorite #1 movie of all time is Seven Brides for Seven Brothers, a musical. I try to get people to watch it whenever I can. My 2nd favorite movie of all time is the one that inspires me as a pastor, The Matrix. It's a movie about a team of people dedicated to convincing one person how important they are to someone else. I mean that's my job in a nutshell, but without all the guns and fanfare, to reveal to people how important they are to God.
FQ: What made you go down the path to being one who spreads the message of God? Is there a backstory of your own you would like to share with readers?
HUGHES: It was never my intention to become a pastor. In fact, I told my pastor at the time that I really thought his job sucked because he was under appreciated and under paid. That was a fun conversation. Growing up I wanted to be a superhero, which at that time meant a NYC cop. They were my heroes. Despite all of the negative press and media, and whilst I acknowledge there are bad cops, I also know there are many who are good and who go out every day and put their lives on the line to protect and serve their communities. The ones who do that every day, especially with the bad press and media hype, they are still my heroes. After time in the military and consulting with the government I felt like God was calling me to something that, although not akin to being a hero, was truly needed and vital to the fate of humanity (being a geek makes me lean towards over dramatizing), sharing the truth of God's word with the world.
FQ: The world has had to go virtual during the pandemic. Can you speak about how that has affected your work? How has the virtual realm helped you continue your fine work?
HUGHES: We've been livestreaming for several years so it wasn't a huge impact. Not to sound morbid, but the pandemic actually helped us. I live in a racially divided area and as a black pastor of an all-white congregation in a predominately white suburban area, most people have been hesitant to come to our Sunday Celebrations. When we went online a few years before the pandemic, we saw multiple people joining online and downloading the messages later. Once the pandemic hit, that multiplied immensely. If the goal of a congregation is to get people into their building, then having to go virtual truly hurt them. If the goal is to expand God's kingdom by sharing His message of love and forgiveness with the world, then the pandemic was a blessing in disguise because it forced congregations to share their messages online to people outside of their communities.
FQ: Can you tell us when the next great story is coming? And, if so, could you give us a peek as to what it will be focused on?
HUGHES: I have two I'm working on. One is about politics (I mean religion, racism, politics, I'm going for the trifecta). It's a devotional looking at politics from God's viewpoint and challenging Christians to prayerful consider where their allegiances lay, with God or their political party even though people from both parties believe God is supporting just their political party. The other one is a fictional book, what I am calling BiFy, Biblical science fiction. It's about a person God sends on a time traveling journey. Both are about halfway through. Again, not to be morbid but the pandemic has blessed me with a lot of time that I use to write instead of just being bored in the house.
| | | | |
| --- | --- | --- | --- |
| Author | Feathered Quill Book Reviews | Added On | Mon May 03rd,2021 |
| Rating | (0) | Category | Interviews |
Hi My Name is Jonah
Hi My name is Jonah
By: Floyd Hughes
Published by: Purple Pages CreateSpace
Publication Date: December 2020
ISBN: 978-1-5464-6168-5
Reviewed By: Amy Lignor
Review Date: April 27, 2021
First, we must deal with the pandemic. People are shut inside their homes facing boredom, anxiety over lost jobs and having no cash to sustain a family, and the feeling of utter hopelessness and panic that they're either going to contract COVID-19, or the world will get so bad that we'll end up living in the scariest Stephen King novel ever written. Then, as we enter the "backend" of the pandemic (hopefully), now we have more shootings, more racism, – and suddenly the bad things done by a few, transform into hatred and confusion for the many. Who is going to stop it? Who is going to once and for all 'deny hatred'?
Along comes this book that is kind, calming, yet shows you there were those in the past that fought against doing something that even the highest power asked them to do. A book that shows there is a purpose for everything, and punishments can be handed down…but so can understanding and love.
This author, who is also a pastor, clears your mind, using what many refer to as the "Fish Story" (AKA: Jonah and the Whale). He shows you through Jonah's struggles, choices, and conversations with God that it is an absolute impossibility to believe and have faith in Christ while having prejudice and bias in your heart. Through the chapters (verses) of the famous Bible story, the pastor shows you what was originally stated, translates that into how it pertains to the present issues we are all facing, and then offers a 'prayer and action guide' at the end of each chapter where he asks you point-blank questions – some humorous, some difficult – and then speaks to you about how God could or would help if you sought His teachings.
You have to understand that, historically, Jonah was a very real person who was a prophet mentioned in the Bible. He was living in a divided world when God called upon him to minister and bring God's message to the Northern Kingdom of Israel. Now, yes, people think about the whale, but the main points of the story are how, where, and why Jonah stepped across lines that ranged from racial to political in order to do what God asked.
Having gone through the pandemic, feeling all the fear and anxiety and then having those emotions transferred to constantly worrying about where the next life will be taken by gunshot or otherwise, this book truly helped me. Whether you already see the walls and the division of our glorious 'kingdom' or not, this book will show you how to deny hatred, and serve as one of those special guides of Christ to bring people together, instead of splitting them further apart.
This world has right and wrong; it always has. Beliefs have always been different, but after all this time, the base beliefs should be the same in one and all. Strength as a people is good, partnership is good, friendship is good, and NOT teaching the next generation (and the generation after that) hatred, would help to ensure that our teenagers and children don't become jaded.
As the author states, there are times in the Book where you like Jonah, and times in the Book where he seems like a real jerk, but the end result is the same. Preaching the Word of God was a good thing that helped to save lives. In 2021, we need to remember that. And this is one author who has offered in a clear, concise, sometimes witty way, the opportunity to make this world do just that.
Quill says: Whether you are 'faith-based' or not, this book will help you get through the darkness and not talk down to you in the process.
For more information on Hi My Name is Jonah, please visit crossroadsofjeffersonhills.com.
| | | | |
| --- | --- | --- | --- |
| Author | Feathered Quill Book Reviews | Added On | Thu Apr 29th,2021 |
| Rating | (0) | Category | Religion and Spirituality |
The Hunting Wives
The Hunting Wives
By: May Cobb
Publisher: Berkley
Publication Date: May 2021
ISBN: 978-0593101131
Reviewed by: Kimberly Trix Lee
Review Date: May 3, 2021
How far would you go to fit in? A new resident of small-town Texas, Sophie O'Neill, would find her answer to this question in The Hunting Wives by May Cobb.
The story all unfolds from the perspective of Sophie O'Neill, a former high-powered lifestyle editor from Chicago who has moved back with her family to a small town in Texas. She wanted to escape the bustling metropolis, have a change of pace, and settle into a more relaxing lifestyle. She thought that Mapleton, Texas could be the right place to raise her 3-year-old son and get on a fresh slowed-down start. Coincidentally, this was also the town where she grew up so she expected to settle in fairly easily.
While Sophie's architect husband, Graham, was busy with his job, she occupied herself doing a lot of various things. Sophie spent her days curating her Instagram account, writing her blog, and jogging in the woods. There really weren't a lot of things that she could do in such a small town after all. However, it seemed as if the slowed-down, relaxed lifestyle that Sophie originally wanted was starting to get old pretty fast. She was getting bored and she was starting to miss the big city life and all the excitement and grandeur that comes with it. As a result of that, she also spent an inordinate amount of time stalking people on social media, namely, the mysterious and alluring resident socialite, Margot Banks.
After one dinner party, Sophie got pulled into Margot's little inner circle called The Hunting Wives, a group of four wealthy and entitled married ladies (now five, courtesy of new joiner, Sophie) who meet up on Friday nights for some good old ladies' night out that typically involved skeet-shooting, a lot of alcohol, and some salacious seduction of both men and teenaged boys alike. Sophie knew that these women's actions were morally reprehensible but she stayed in the group and started lying to her husband about it. When Sophie crossed the line that could potentially put an end to her marriage, she thought it was best to stay away from the group. However, her inexplicable obsession with Margot Banks kept her coming back, over and over. Sophie's life started falling apart when she found herself in the middle of a murder investigation of a teenager, shot to death on the very land where The Hunting Wives shoot skeets.
The Hunting Wives by May Cobb is a scandalous and racy whodunnit domestic thriller that starts slow, picks up halfway through the book, and then rushes the ending. The scandalous and racy scenes start early on but you don't get to see the actual conflict until halfway through. The interesting thing here is that we see the story unfold through the eyes of the main character, Sophie, who was as unlikeable as they come. She was frivolous, indecisive, and totally gullible. The entire mess that she was in, she got into due to her series of bad decisions after bad decisions. So if you're the kind of reader who starts a book with the expectation of liking, empathizing, or even just relating to the characters, then this is not for you. While I would have enjoyed the story more had there been a greater emphasis on the "whodunnit thriller" aspect instead of the scandalous and racy scenes, the author did a good job in creating characters you "love to hate." I enjoyed hating Sophie and her "friends."
Quill says: This is a Real Housewives-esque story with a dash of murder and characters that you would love to hate.
| | | | |
| --- | --- | --- | --- |
| Author | Feathered Quill Book Reviews | Added On | Thu Apr 29th,2021 |
| Rating | (0) | Category | Fiction |
All Reviews
Login Here
Top Rated
Most Popular
Editor's Pick
Sponsor